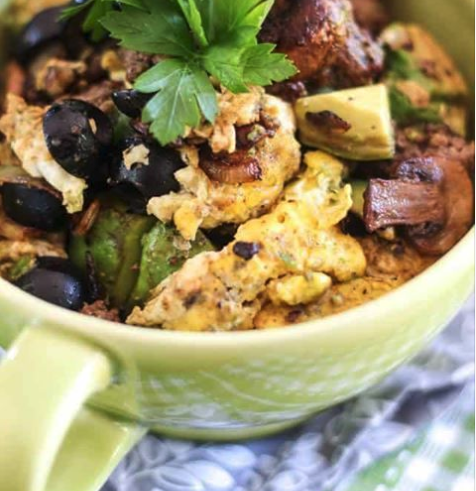 | | |
| --- | --- |
| | |
1. In a heavy skillet set over medium high heat melt 1 teaspoon coconut oil. When oil is nice and hot, add onions, mushrooms, Himalayan sea salt and pepper and cook until the veggies are fragrant and softened, about 2-3 minutes.
2. Add ground beef and smoked paprika and continue cooking until the beef is no longer pink. Remove that to a plate.
3. Add the egg to the skillet and scramble them to your liking.
4. Return beef to the pan, add avocado and sliced olives.
5. Continue cooking just to slightly warm up the avocados and olives, about 45 seconds to a minute.
6. Transfer to a pretty bowl, garnish with parsley if desired, sit yourself down and enjoy!