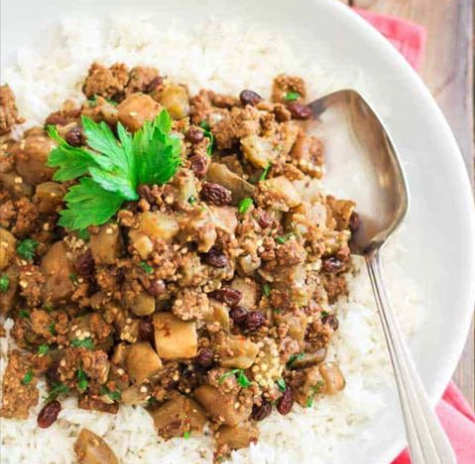 | | |
| --- | --- |
| | |
1. Put the ground beef in a large skillet set over medium-high heat (no need to add any fat, the meat will take care of rendering its own)_ and break it up into small little pieces with a large spoon. Sprinkle with 1 teaspoon of Himalayan sea salt and cook until the meat is golden brown and crispy, about 12 to 15 minutes; drain the excess fat.
2. Add the onion and cook for about 3 minutes, until fragrant and slightly softened.
3. Throw in the water, eggplant, remaining half teaspoon of Himalayan sea salt as well as the remaining spices, lower the heat to medium-low and cook, stirring occasionally, until the eggplant is tender and creamy, about 25 to 30 minutes.
4. Delicately stir in chopped parsley and serve immediately, over a bed of cauli-rice
Serving Size = 3 ounces ground beef and 2 cups of vegetables/cauli-rice