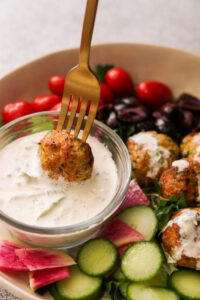 Crispy, healthy, and jaw-droppingly delicious. Cauliflower falafel testes so authentic and can be made in the oven or on the stove! Paired with our homemade tzatziki sauce and a fresh Greek salad and you have the perfect meal for any day of the week!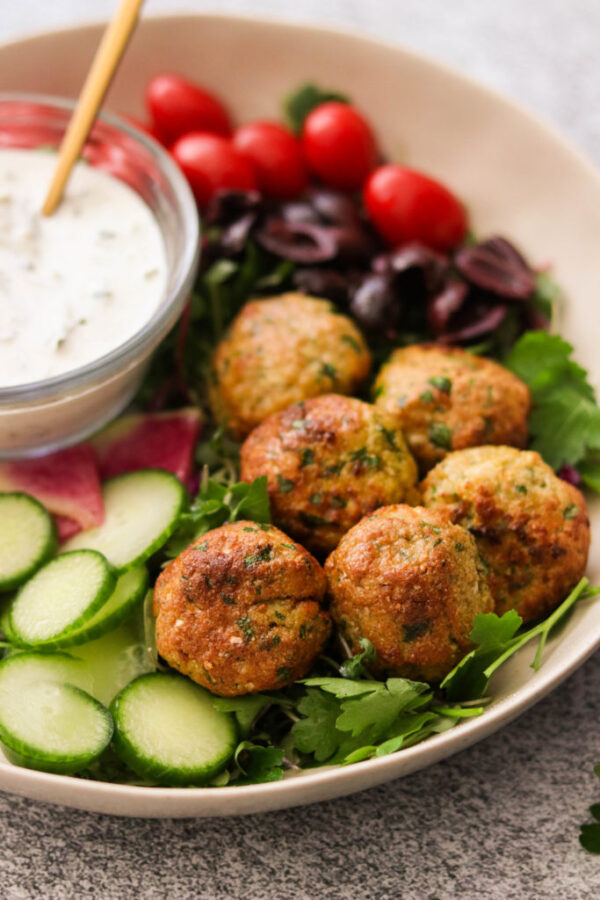 | | |
| --- | --- |
| | |
Make Tzatziki Sauce in advance (see recipe on website) if you are planning to serve it with the falafel, and chill until ready to use.

Place cauliflower florets in a food processor or blender, and process until finely grated and sticky. This should yield about 2 cups.

Transfer to a large mixing bowl and add the rest of the ingredients, except avocado oil and tzatziki sauce.

Mix well and shape into about 20 falafel balls or patties (patties will work better for pan-frying).

Cook according to the instructions below and serve with homemade Tzatziki Sauce.
Preheat the oven to 375 degrees F and generously grease a baking sheet with avocado oil (I used about 2 tbsp).

Place the falafel in a single layer on the baking sheet and spray the top of the falafel balls with cooking oil.

Bake for 15 minutes, then flip. Spray the other side with cooking oil and bake for 15 more minutes until golden and crispy.
Heat a large skillet over medium high heat and add 2-3 tbsp of avocado oil.

Add the falafel patties in a single layer (work in batches if you need to) and pan fry for 3 minutes.

Flip, and cook for 2-3 more minutes until golden and crispy.