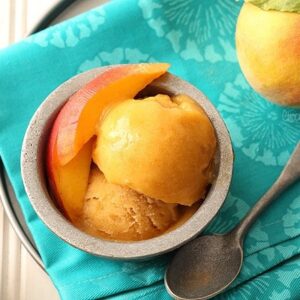 Just because we have to say goodbye to summer, it doesn't mean we have to say goodbye to frozen treats! This peach sorbet is perfect year-round. It has a delicious fresh flavor and an irresistible tangy sweetness that you'll be coming back for again and again! Try it out!

Add frozen sliced peaches to blender or food processor. Pulse to break up the peaches.

Add in water or nut milk, lemon or lime juice, and optional stevia drops. continue to blend until a thick, smooth texture. If it's too thin, add in more frozen peach slices or ice cubes to thicken. If too it's thick, add in more water or unsweetened nut milk to loosen the texture.