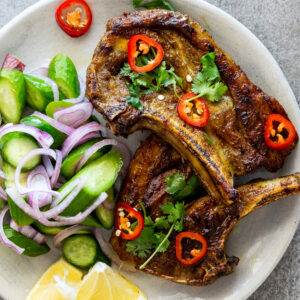 If you're a fan of big, bold flavors you NEED to try this. Its spicy and aromatic and pairs so perfectly with this fresh lemony cucumber salad. If you're not a fan of lamb chops that's totally fine… they can easily be swapped out for some juicy chicken thighs! Super Easy. Super flavorful. Super healthy. Check it out!!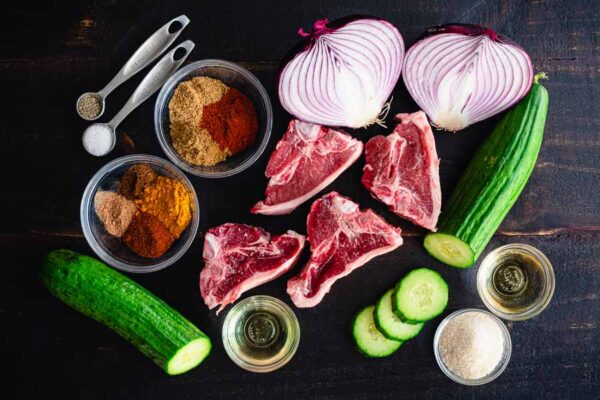 For the Spiced Lamb Chops
| | |
| --- | --- |
| For the Spiced Lamb Chops | |
You will want to make the cucumber salad first, to allow the flavors to combine wile the lamb cooks. To make the salad, slice the cucumber and onion thinly into a bowl.

in a small down, combine lemon juice/vinegar, stevia, salt, and pepper. Pour over the cucumbers and onions and allow to marinate in the fridge at least 10-15 minutes before serving.
In a small bowl, combine all dry spices, ginger, garlic, and olive oil. It should form a thick paste. Set aside.

Rub each lamb chop with the spice mixture thoroughly, coating both sides.

Heat a pan over medium high heat, add in avocado oil. Once hot, cook lamb chops 3-4 minutes per side. (If using chicken thighs, cook about 5-6 minutes per side, until center reaches 165 degrees F. Allow to rest 5 minutes before serving.
1 serving is 1 lamb chip and 1/4 of the cucumber salad. Each serving contains 1 protein, 1 serving fat, and 1 serving veg.