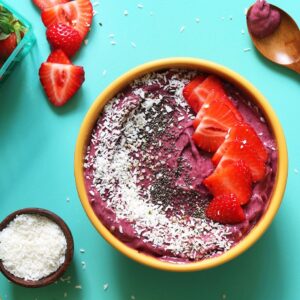 Looking for something sweet to start (or end) your day with? I have the PERFECT recipe for you! This smoothie bowl is super quick and sweet and I love how easy it is to customize! It's super thick and creamy, similar to soft-serve ice cream, except without all that processed, artificial junk. Add this to your list of must-try's!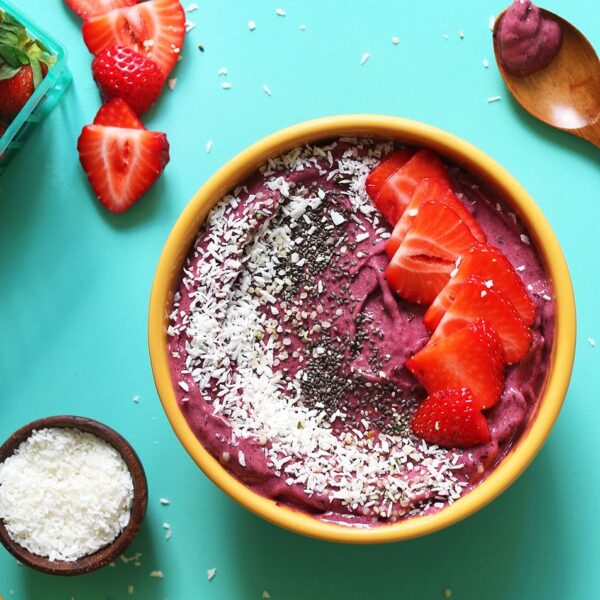 Add frozen fruit and protein powder into blender with 1/3 cup nut milk. You don't want to add all the nut milk at once, because we want this to be a very thick texture.

continue to add small amounts of nut milk to the blender until desired consistency is reached.

Once the smoothie is thick and smooth, transfer it to a bowl and top with your favorite toppings & enjoy! I like to top mine with sliced strawberries, coconut, and a teaspoon of almond butter! Yum!!
This recipe contains 1 serving protein and 1 serving fruit.
*If you add shredded coconut, nut butter, or chia seeds, be sure to track that as a healthy added fat.
**If you want to add a serving of veggies, you can throw in a cup of fresh spinach or 1/2 cup of frozen spinach! This will change the color but will not drastically alter the taste. It's a great way to sneak in some extra fiber and vitamins!
You can customize your smoothie bowl by changing up the fruits used or the toppings. For example, you can choose to use just blueberries or just strawberries. You can add apple slices or cherries or any on-plan fruit you want!