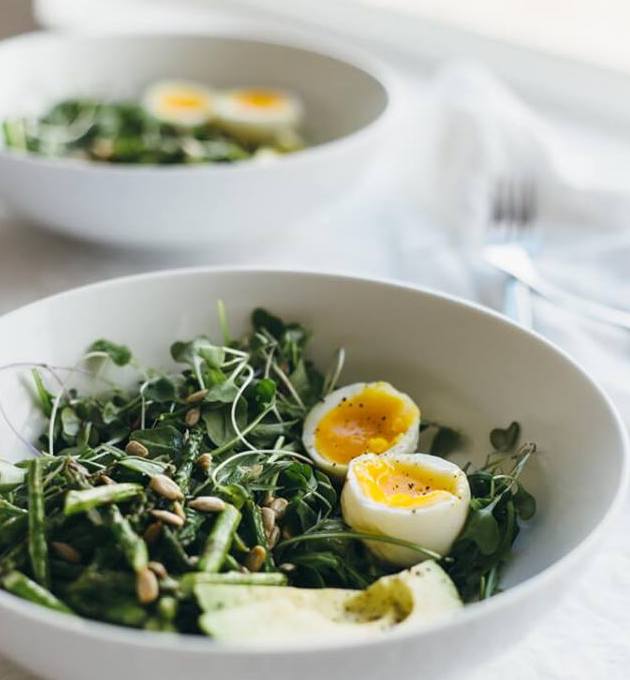 1. Wash and trim the asparagus. Cut into 1 to 1½ inch pieces.
2. Heat the coconut oil in a small pan on medium-high heat. Add the asparagus pieces, season with salt and pepper and cook for 2-4 minutes (depending on the thickness of your stalks). Set aside.
3. Heat a small pot of water on high heat and bring to a boil. Reduce the heat to a gentle simmer and with a spoon, carefully add the eggs. Immediately set a timer for 6½ minutes for soft-boiled eggs (as you see pictured). If you'd like your eggs a little firmer, set your timer for 7 - 7½ minutes. Increase the heat until you reach a boil again.
4. While the eggs are boiling, create an ice-water bath in a bowl.
5. Make the lemon vinaigrette by whisking together all dressing ingredients in a small bowl, and set aside.
6. When the eggs are done, remove them from the pot with your spoon and immediately submerge in the ice-water bath, to stop the cooking process.
7. Assemble the salads by dividing up the arugula and spring mix between bowls. Add the asparagus and sunflower seeds. Peel and slice the avocado, adding a ¼ avocado to each serving. Peel the eggs, slice in half and add to the salads. Drizzle the lemon vinaigrette on top.
Serving Size = 2 cups of asparagus/spring mix, 2 eggs and 1-2 teaspoons lemon vinaigrette.