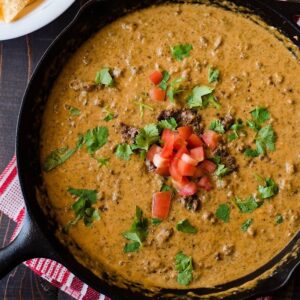 You'll never guess that this creamy queso dip is completely DAIRY FREE! It's perfect for parties or game day or to enjoy all on your own! Be careful though, this stuff is SERIOUSLY addicting.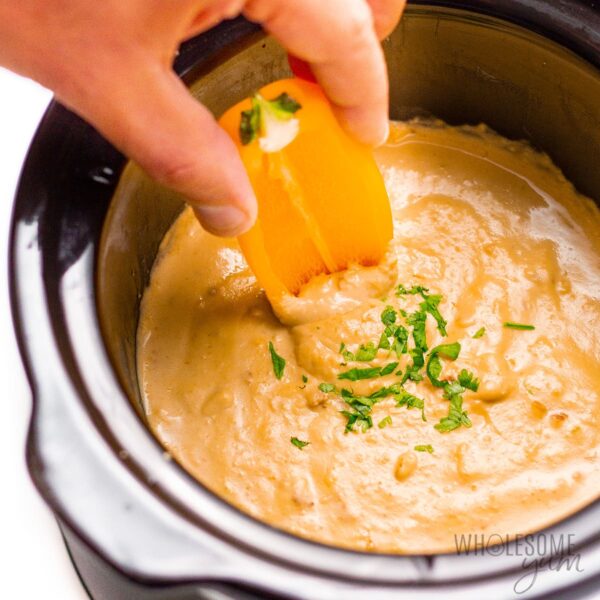 | | |
| --- | --- |
| | |
Before you begin cooking, make sure to soak cashews for at least 1 hour to overnight.

Heat 1 tsp of ghee over medium high heat in a medium saucepan with a lid. Add garlic and sauté for 1 minute. Add in cauliflower florets and almond milk, and bring to a boil.

Reduce heat to medium low, cover, and simmer for 15 minutes until the cauliflower is tender. Remove from heat and transfer to a high powered blender. Add in soaked and drained cashews and nutritional yeast, and blend until smooth and creamy. Set aside.

In the same saucepan, heat 1 tsp of ghee over medium high heat. Add onion and cook stirring until soft, about 5 minutes. Add in ground beef, sea salt, mustard powder, chili powder, cumin, and turmeric, and cook for about 10 minutes until the meat is browned, breaking it up with a wooden spoon.

Pour in the blended cauliflower, drained diced tomatoes, green chili, and apple cider vinegar, and stir together. Let the whole thing simmer uncovered for 10-15 minutes until thickened to your liking.
Makes roughly 5 cups of queso dip. 1 serving = 1 cup
Each serving is roughly 1 serving protein, 1 serving veg, and 1 serving healthy fat
Serving recommendation: with zucchini chips, mini bell pepper "chips" or served over spaghetti squash or zoodles