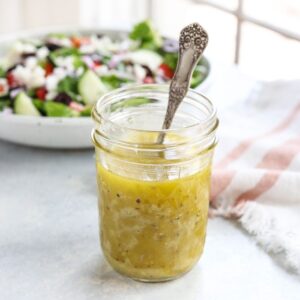 It doesn't get any easier than a mason jar salad dressing. You just throw all the ingredients in a mason jar and shake it up! Minimal cleanup, and you make it and store it all in the same container! There are SO many mason jar salad dressings you can make and I promise to have more to choose from soon, but for now here is one of my all-time favorites: Greek Dressing!

Add all ingredients to a small (at least 8oz) mason jar. Shake vigorously to combine. Chill in fridge for at least 1 hour to allow flavors to combine (overnight for best flavor).
1 serving = 4tsp dressing. Each serving contains 2 healthy fats.
leftover dressing can be stored in the fridge for up to a week!